Dampflokomotive 1851
Dampflokomotive: GKB
1925 wurde die 1898 gebaute Lok 1851 von der Südbahn an die Graz-Köflacher Bahn (GKB) verkauft, bei der sie bis 1976 im Dienst stand. Als die Graz-Köflacher Eisenbahn- und Bergbaugesellschaft nach der Auflösung der Südbahngesellschaft im Jahre 1924 wieder selbst die Betriebsführung auf ihren Strecken übernahm, kam zuerst die "1852" und 1926 auch die "1851" als Ersatz für zwei auszumusternde Stollenlokomotiven zur GKB. Für ihren neuen Einsatzzweck als Stollenlokomotiven mussten sie entsprechend umgebaut werden. So wurden, um den Pibersteiner Revierstollen befahren zu können, u. a. der Kamin gekürzt und der Führerstand "tiefergelegt", was den Maschinen ein etwas kurioses Aussehen verlieh. Beide Loks wurden hauptsächlich für Verschubarbeiten eingesetzt.
Nach Jahren der Abstellung in Graz und Wien wurde die 1851 mühevoll restauriert und steht heute als Denkmallokomotive in Bärnbach.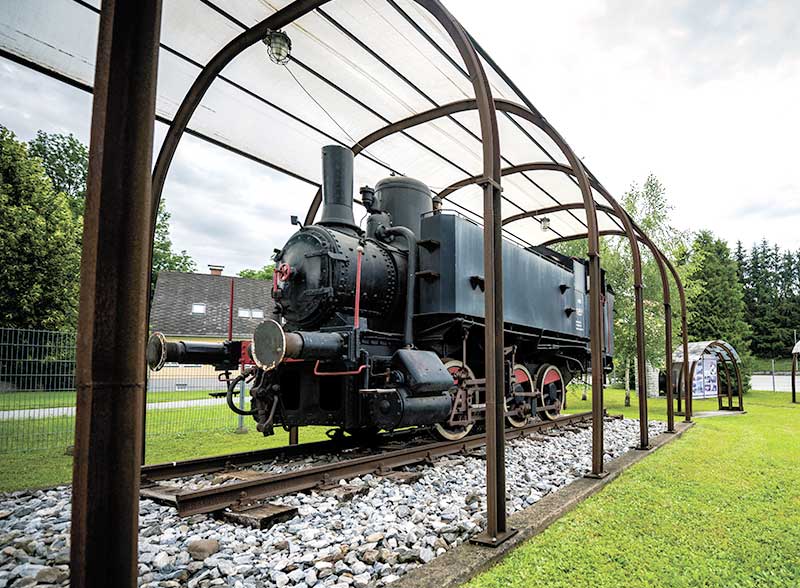 Foto: Jana Scherr
1851 steam engine - Graz-Köflach Railway
The 1851 engine, built in 1898, was sold in 1925 by the Südbahn (Austrian Southern Railway) to the Graz-Köflach Railway (GKB), where it was in service until 1976. When the Graz-Köflach Railway and Mining Company once again took over the management of its lines in 1924 following the liquidation of the Südbahn company, first the '1852' and then in 1926 the '1851' joined the GKB to replace two mining locomotives that were taken out of service. The engines had to be modified in order to serve their new purpose as mining locomotives. This involved measures such as shortening the chimney to allow the engine to be driven in the Piberstein gallery and lowering the driver's cab, which gave the machines a somewhat curious appearance. Both engines were primarily used for shifting work.
After being stored in Graz and Vienna for many years, the 1851 was painstakingly restored and now stands in Bärnbach as a memorial engine.